GENTLE :: Yin + Nidra
This class is taught by: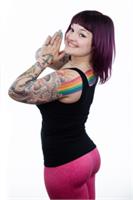 Jamie thinks that the key to happiness is contentment, compassion, and laughter. And sushi. And dogs. Lots of dogs.
Jamie believes that yoga is a constant practice, appropriate for every body, that should be approached with compassion for the self. Her classes focus on breath, alignment and body appreciation, and you will leave her class feeling calm, supported and empowered.
Work the connective tissues of our ligaments, joints and deep fascial networks in this meditative practice focused on deep stretching, breath and relaxation. Props are used to support the body as postures are held for an extended time allowing for deep stretches that are soft, rather than muscle driven.
Class ends with a guided Yoga Nidra savasana "yogic sleep" - a conscious state between wakefulness and sleep. The teacher's voice leads the shifting of your attention in a practice of letting go, willful emptying that leads to calmness, quietness and clarity.
Upcoming classes: